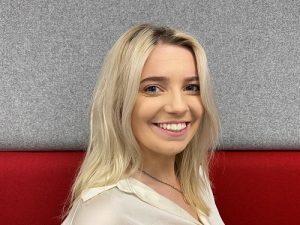 Golding Homes is delighted that Camilla Braybrook has been appointed as our New Business Manager.
Camilla joined Golding Homes as an apprentice in the Community Development team in March 2017, quickly progressing into Commercial Services as a Residential & Commercial Lettings Officer after just eight months.
Camilla then went on to become a Trainee Project Manager within the New Business team in July 2019, successfully undertaking a RICS Project Management in Construction qualification, before being appointed New Business Manager in January 2022.
Recently, Camilla led the team which secured Golding's latest contract, a partnership with Oliver Davis Homes to develop the former Somerfield Hospital site in the heart of Maidstone. Somerfield Terrace, as it will be known, will see the delivery of 73 new homes and will be the town's first mixed-tenure development of this type, including flats and houses for market rent, shared ownership, social rent and discounted market sale.
As New Business Manager, Camilla will be responsible for seeking and securing new development opportunities across Kent, as well as building and maintaining existing relationships with developers, contractors and local authorities.
Speaking about her career progression, Camilla Braybrook said:
'I'm delighted to have been appointed New Business Manager for Golding Homes. This is an exciting time for Golding as we continue to add to our much-needed pipeline of new homes.
'I'm looking forward to securing new development opportunities and continuing our commitment to creating great homes and communities where people choose to live.'
Tom Casey, Director of Development and Sales at Golding Homes, commented:
'I'm really proud of Camilla's progression with Golding Homes; she is a great asset to the Development team. This just goes to show the career progression and qualification opportunities we can offer, from apprenticeships to management and beyond.
'I'm sure Camilla will continue to go from strength to strength and I'm looking forward to seeing what she'll achieve in her new role.'
If you're interested in working for Golding Homes, see our vacancies.