Cindy and her family of five have just moved into the new Finberry development in Ashford, thanks to Golding Homes and the Help to Buy shared ownership scheme and they couldn't be happier.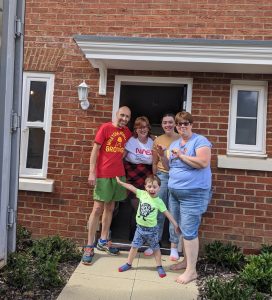 Cindy and her family were previously living locally in a 3-bedroom house, but with three children, aged 17, 15 and 3, this meant a lack of space and two of the children having to share a room. Cindy and her husband even tried sleeping on a pull-out bed in the living room, to allow their kids to have their own rooms, but in the end, this wasn't practical so they had to find another option.
"We didn't think shared ownership was for us," explains Cindy. But after Paul found what they described as their dream house up for sale via shared ownership, they decided to investigate further. They discovered that their "dream home" was in fact a possibility via shared ownership, so after visiting the area and falling in love with it, they started on the route of buying their brand-new home.
It was a difficult few months when the Covid-19 pandemic delayed their move. But Cindy felt the sales team did their best to keep her informed and keep things moving along. "Even in lockdown everyone did as much as they could to make sure we could move in as soon as lockdown finished," says Cindy. "The sales agents gave advice and guidance all along the way and they were so helpful."
The family got the keys to their new home last month (August 2020) and Cindy said it felt like a dream. "When we got the keys, we ran in shouting we've finally done it, this is our dream house," she laughs. "It took a few days for it to sink in that this is really our house, this is where we live now. The family have been visiting us already and love it."
The extra space in their 4 bedroom home is already making a difference to their lives with the kids and Cindy and Paul all having their own bedroom now. Cindy has health issues and says she is already noticing an improvement in her health, with less stress and no need to juggle space for the children. "The kids are able to have friends around to play and the kitchen has become a focal point for the household," she says. "With only a galley kitchen in our last home, we couldn't all socialise and be together but now cooking has become a family activity. This house has really bought us closer together already".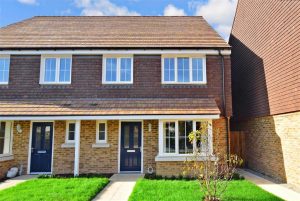 The Finberry development in Ashford, is due for completion this year, and Golding Homes has taken ownership of 45 two, three and four-bed houses and apartments from Crest Nicholson. These are a mixture of affordable rent and shared ownership homes.
"It's wonderful to see what a difference the shared ownership scheme can make to a family. Having a decent home with enough space has a big impact on people's happiness and health, and the help to buy schemes are a fantastic option for people who are unable to access home ownership via the traditional purchasing route." Explains Paula Spain, Sales Manager at Golding Homes.
When asked what Cindy and her husband thought of the shared ownership scheme that made their new home possible, she said "We'd never have been able to do this without shared ownership. This was the only lifeline for us."
If you're thinking of using any of the help to buy schemes, such as shared ownership or equity loan, head to the Help To Buy website to enquire if you are eligible. To see our shared ownership homes, visit the Golding Places website.